Five Best places to have high tea in Brisbane
Who says grown-ups can't have tea parties too? Afterall there is nothing wrong with indulging in the finer things life has to offer once in a while. High tea is the perfect way to treat yourself, and your favourite pals. What could be better than a day spent sipping endless tea, bubbly and coffee while snacking on scones and decadent desserts? Whether you want an afternoon of classic indulgence or like to discover something a little different, we have put together a list of best places to have high tea in Brisbane to satisfy your sweet tooth.
1. Darling & Co.
Darlings, high tea isn't simply about cascading sandwiches and scones with jam and cream. Get down to the stunning surrounds of Paddington's Darling & Co to rediscover the decadence of high tea. Indulge in the vast selection of yummy finger foods paired with your choice of local teas by West End Tea Co, or for something a little different try the Tanqueray G&T high tea set. Darling & Co's grown up tea party lets you and your closest darlings enjoy four different gin-based cocktails alongside their menu of high tea bites. Tea bookings require a minimum of ten people.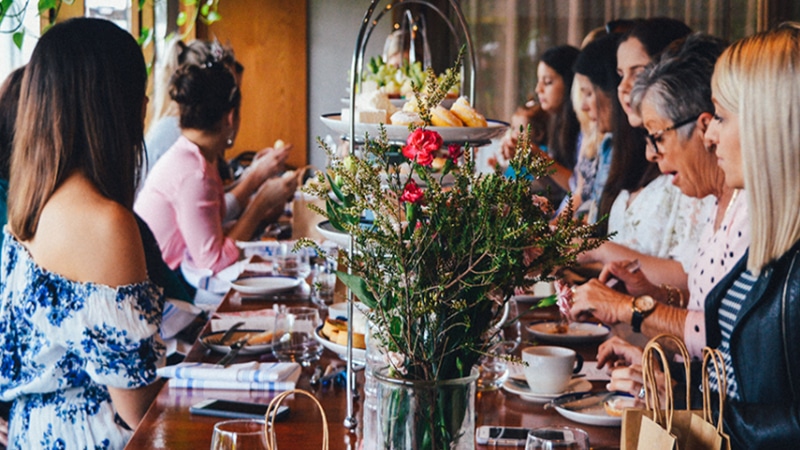 2. Customs House
Brissy's Customs House offers one of the most glamours high tea experiences in the city. Nibble on dreamy scones, bite-sized desserts and savoury snacks while sipping bubbly during their special Champagne High Tea Party. If a boozy brunch isn't your style, there are two other more traditional high tea options available, one being a special bridal party menu. So book your next hens day, birthday, work function or girls day in the stunning art deco surrounds of customs house. Served on the restaurant's iconic terrace, you will also be treated to one of the best views Brisbane has to offer, as well as some of the best petite eats.

3. Sofitel Brisbane Central
While taking in the beautiful Brisbane views from Sofitel Brisbane Central, you can indulge in their signature high tea. Their menu boasts a decadent combination of classic snacks such as sones and ribbon sandwiches as well as some innovative French dessert by pastry chef, Joel Helot. The exclusive high tea is served daily from 11 am to 3 pm in Club Sofitel Lounge on the 30th floor and also in Cuvée Lounge Bar from 11 am to 4 pm but bookings are essential.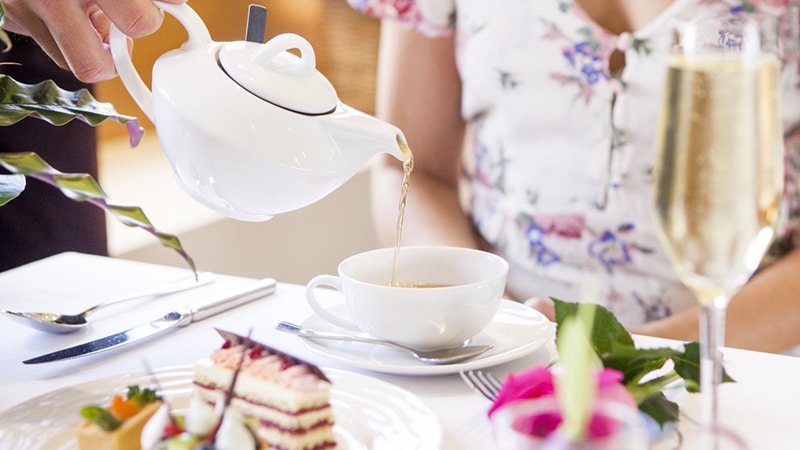 4. Passiontree Velvet
With one of the most affordable menus, Passiontree Velvet offers high tea starting at just $13.50 per person. Their mission is to revive the decadent pass time in honour of its inventor, Anne Maria Russel, and make it accessible for everyone. They have crafted their range of goodies and menus to suit every occasion and group size. Choose from the simple selection of scones with jam and cream served with classic British tea or the more extravagant Duchess Full High Tea. This includes ribbon finger sandwiches, warm baked scones with jam and cream, and an array of High Tea fancies for $34.95 per person. They also offer the adorable Teddy Bears Picnic for the little ones.
VISIT Passiontree Velvet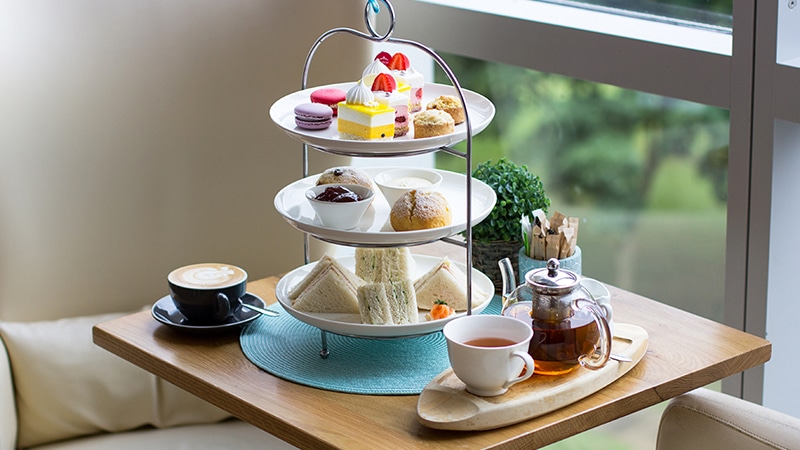 5. Room With Roses
Nestled away above the heritage listed Brisbane Arcade is high tea specialists, Room With Roses. The iconic cafe offers the most individual dessert experience in the sunny city. You can choose from the Deluxe High Tea for $42 per person, Chocolate High Tea for $45 per person and the Ultimate Chocolate High Tea for $49 per person. For an extra $8 you can also add a glass of Tatachilla Premium Brut High Tea Bubbles to any of the menus. And for an additional $4, you can also choose from a selection of yummy vegetarian and gluten-free eats. Room With Roses also sells High Tea Picnic Hampers which include a bottle of bubbles, disposable napkins, plates, cutlery and champagne flutes.